25 Things Locals Love About Charlotte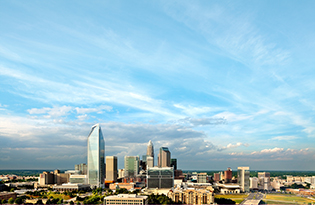 Charlotte is known for many things, but sometimes local favorites don't make headlines. The Charlotte Parent staff thinks these are worth a mention.
1. Browsing comics at Heroes Aren't Hard to Find, a locally owned comic book store in Plaza-Midwood.

2. Watching the kids run and play around the fountain Brixx Wood Fired Pizza at Foxcroft while you enjoy a cold beer and pizza on the patio.

3. Cooling off at the splash pad at Veteran's Park in Plaza Midwood or Latta Park in Dilworth.
4. Feeding llamas and Watusi cows on a safari adventure at Lazy 5 Ranch in Mooresville.


Photo credit: Charlotte's Got a Lot
5. Shaved ice at Jack's Ice House, a little shack at the edge of a parking lot on Highway 521 near Ballantyne.

6. A round of disc golf at Reedy Creek Nature Preserve.

7. Looking up at the T-Rex at the Schiele Museum of Natural History.


Photo credit: Charlotte's Got a Lot
8. A walk from Metropolitan to Freedom Park on the Little Sugar Creek Greenway.


Photo credit: Charlotte's Got a Lot
9. A double scoop on a cone at Tony's Ice Cream in downtown Gastonia.

10. Swimming at the sand bar at Mountain Island Lake.

SEE ALSO: Download the free GPS [Go. Play. See] iPad app for the ultimate guide to life with kids in Charlotte
11. Running the 40-yard dash and watching kids do the obstacle course at the Play60 KidZone at Freedom Park.

12. Dinner at The Diamond Restaurant (think 1950s diner) in Plaza-Midwood.

13. Walking to the Little Free Library set up on North Laurel Avenue in Elizabeth.


Photo credit: Charlotte Home & Garden
14. Riding bikes around Colonial Park on Providence Road before going to Ben and Jerry's for ice cream.

15. Simpson's Farmer's Market on Kings Drive.

16. Finding your way out of the Amazing Maize Maze at Rural Hill in the fall.


Photo credit: Charlotte's Got a Lot
17. A trip to the Charlotte Douglas Airport Overlook to watch airplanes take off and land. Go at night for an out-of-this-world adventure.
18. Cane Creek Park near Union County for family reunions, camping, fishing, boating and swimming.
19. Mac-and-cheese and jumbo fried shrimp at Cajun Yard Dog, a hole-in-the-wall restaurant with reasonably priced food, at the Arboretum.

20. Access to professional and semi-professional sports teams, including football, basketball, baseball and hockey teams in uptown Charlotte.


Photo credit: Charlotte's Got a Lot
21. The homemade food, dancing and carnival rides at Yiasou Greek Festival each September.

22. Driving through Myers Park and Eastover neighborhoods to look at Christmas lights.

23. Vietnamese food at family-friendly Lang Van on Shamrock Avenue.

24. Bicycle-friendly greenways all around town.


Photo credit: Charlotte's Got a Lot
25. The people and city pride that makes Charlotte a great place to live.