2017 Readers' Favorites: Eats + Treats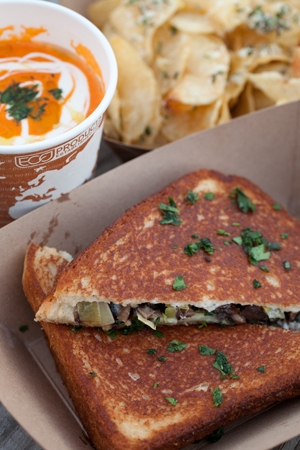 Barbecue: Mac's Speed Shop
Famous for its barbecue, Mac's also dishes up popular Southern sides like mac-and-cheese, collard greens, baked beans, specialty salads and cheddar grits. Locations in Charlotte, Cornelius Matthews and Steele Creek. macspeedshop.com.
---
Brewery With Kids: Olde Mecklenburg Brewery
Kids can run and play at the outdoor beer garden while while Mom and Dad sample local brews. Choose from menu items like bratwurst, soft pretzels, burgers and pizza. 4150 Yancey Road, Charlotte. oldmeckbrew.com.
---
Brunch With Kids: Toast
What was Toast is now the Famous Toastery. The menu has includes something to satisfy the cravings of every family member with daily specials on quiche, soups, wraps, egg dishes, stuffed French toast and classic flapjacks. Multiple locations in Charlotte, famoustoastery.com.
---
Burger: Bad Daddy's Burger Bar
It's best to bring your appetite for a Bad Daddy's burger, with choices like the Bacon Cheeseburger on Steroids, Mama Ricotta's Burger and the Classic Southern Burger. You can also build your own burger or salad, and sample tater tots and sweet potato fries. Multiple locations. baddaddysburgerbar.com.
---
Doughnuts: Krispy Kreme
Krispy Kreme opened its doors in Winston-Salem in 1937. Decades later, customers still scramble for the original glazed treats when the "Hot Fresh Doughnuts" sign lights up in the storefront window. Multiple locations. krispykreme.com.
---
Farmer's Market: Charlotte Regional Farmer's Market
Talk to the farmers selling their goods at this market, which runs year-round. Find locally grown produce and farm-raised meat products, plus jams, jellies, fresh-cut flowers, garden plants and handmade crafts. 1801 Yorkmont Road, Charlotte. charlottefarmersmarket.com.
---
Food Truck: Papi Queso
Don't expect an ordinary grilled cheese at Papi Queso. With items like a Mushroom and Gruyere Sandwich with Truffle Oil, and the Pig Mac with pulled pork and mac-and-cheese between two slices of bread. To find out where the truck is making an appearance, visit facebook.com/papiquesotruck.
---
Ice Cream: Bruster's Ice Cream
Bruster's remains a popular spot if you're craving a milkshake, sundae or waffle cone with one of numerous ice-cream flavors or sorbet. They also have ice-cream cakes and pies. Mutliple locations in Charlotte. brusters.com.
---
Mac-and-Cheese — TIE: Lupie's and Jim 'N Nick's
For more than 30 years, Lupie's has served up daily specials like meatloaf, chicken and dumplings, fettucini alfredo, and mac-and-cheese. 2718 Monroe Road, Charlotte. lupiescafe.net.
Known for its barbecue, Jim 'N Nick's creates pulled-pork plates, beef brisket, spare ribs and mac-and-cheese, baked beans, mashed potatoes and slow-cooked collards for trimmings. Charlotte and Concord, jimnnicks.com.
---
Mexican Food: Cantina 1511
Expect full flavor and spice in the appetizers and entrees like the guacamole customized tableside, cast-iron fajitas and hamburguesas at Cantina 1511. Park Road Shopping Center and Stonecrest at Piper Glen, Charlotte. cantina15eleven.com.
---
Pizza: Brixx Wood Fired Pizza
Brixx thin and flavorful pizza choices, such as the Americo with pepperoni, mozzarella and mushrooms and the Pear and Gorgonzola as a veggie option, remain Charlotte family favorites. Be sure to save room for s'mores pizza for dessert! Multiple locations. brixxpizza.com.
See other Readers' Favorites winners here.