2012 Olympics: Embrace the Excitement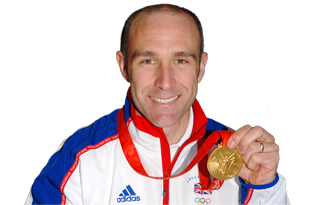 "I got the gold!" blurted my 7-year-old after finishing his broccoli before anyone else at the table. "I got the silver!" said my 5-year-old. Both boys then encouraged my 2-year-old daughter to hurry and finish her vegetables before Mommy and Daddy so she could win the bronze medal.
This ritual takes place most nights after my children watched the 2010 Winter Olympics on TV. While we don't give out medals, my children like being called the winner. I like that they are excited to eat their vegetables.
The 2012 Summer Olympic Games begin July 27 and run through Aug. 12 in London. Besides offering family-friendly television – and inspiration for a healthy dinnertime game – the Olympics provide excitement, education and entertainment for the whole family. Your family can do more than just sit on the couch and watch the games. Embrace the Olympic spirit and join in the fun. Here are some ways to get started.
Cultivate cultural curiosity
More than 10,000 athletes from 205 countries will compete in the 2012 Summer Olympics. Expand your child's (and your own) knowledge of the world by locating the countries on a map. It can be eye-opening for a child to realize how many countries there are, each with its own history and culture. You will probably need to use the Internet to find more obscure countries like Tuvalu, Comoros and Lesotho.
Add to your child's Olympic experience by exploring different nations' cuisines. You could try your hand at afelia – pork marinated with coriander – which is a traditional food athletes from Cyprus may eat. Experiment with Vietnamese noodle soup, called pho. Or try baking paw paw tarts, little papaya pies and a favorite of many Liberian residents.
Olympic athletes proudly display their citizenship by sporting their country's colors on their uniforms, waving their country's flags and singing their national anthems. Watching the Olympics with your child provides an opportunity to explain the importance of citizenship and teach them the words to our national anthem.
Uncover uncommon sports
The 2012 Summer Olympics features 26 sports. Watching the various events introduces children to a variety of sports.
Your child may be surprised to find out canoeing, judo and handball are Olympic sports. Water polo is similar to handball but played in the water. In this fast-action event, each team has only 30 seconds to score before the ball goes to the opposing team.
If your child isn't interested in basketball, soccer or other mainstream sports, the Olympics showcases other sports he or she can pursue if interested. Who knows? Your child may want to try rowing, fencing or synchronized swimming.
Appreciate inspiring stories
Some athletes overcame major obstacles to participate in the 2012 Summer Olympics. Before watching the events, read about some of the Olympians and how they got to where they are today.
South African sprinter and Olympic hopeful Oscar Pistorius was born without a fibula in either leg. He had both legs amputated below the knee when he was a baby. Now called the Blade Runner, he runs on two prostheses that resemble blades.
Before you tune in to see Team USA's Sanya Richards-Ross run the 400 meter race, tell your child that she suffers from a rare autoimmune disease called Behcet's disease, which causes severe mouth ulcers and lesions, fatigue and joint pain.
These two athletes didn't let adversity overcome their passion to do what they love. Instead they powered through and never gave up – a great message for kids.
Act like an Olympian
All Olympians must work hard, be focused and stay determined to reach the elite level. This is true for any athlete who wants to succeed. Olympians maintain rigorous training schedules. Find out more about their demanding training by watching videos of Olympic athletes training on YouTube.
Since athletes need to be healthy to be good at what they do, teach your kids to think like an Olympian when choosing what to eat and drink.
Watching an Olympic team sport on television, such as volleyball, rowing or relay races, can emphasize the importance of teamwork, a skill kids will use in many areas of life.
Remind your child that there are only three medals given to the many participants in each sport. Most Olympic athletes end up in the middle of the pack. Teach your child that not everyone can be the best, while stressing the importance of accomplishments such as beating a personal record.
Take part in the fun
Encourage and inspire kids to be active by staging your own mini-Olympics in your backyard. Activities can include anything from obstacle courses and running races to tumbling and badminton.
Rebecca Zellmer, a preschool teacher, helps her 4-year-old students create their own Olympic Games. "I divide the children into groups representing different countries," she says. "They participate in events and receive medals. We listen to the Star Spangled Banner and learn about the different events and equipment needed."
Zellmer even helps them make their own Olympic torches out of empty toilet paper tubes and tissue paper.
Watching the Olympics with your child can be a fun, family bonding experience, but don't just sit on the sidelines – participate! Prepare to learn a thing or two yourself as you and your child actively uncover fun facts, healthy habits and valuable life lessons.
Deanne Haines is a freelance writer and mother of three.
> Read more about Charlotte's Hometown Olympians