2012 N.C. Family-Friendly 50 Companies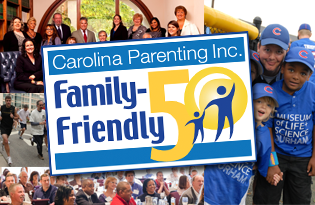 View full list of the 2012 NC FF50 Companies.
Maintaining a healthy balance between career and family is a challenge for working parents, especially during these tough economic times. But family-friendly companies know that employee satisfaction has a direct impact on a company's bottom line. Companies that strive for a family-friendly culture with flexible hours, generous benefits and creative solutions for working parents are rewarded with low turnover and loyal employees who are committed to the company's success.
For the past 14 years, Carolina Parenting Inc., which owns Charlotte Parent, Carolina Parent and Piedmont Parent, has recognized North Carolina companies with strong commitments to work-life balance.
These outstanding employers, comprised of large and small companies, should be applauded for their family-friendly policies and benefits that make it possible for working parents to manage their careers and spend time with family.
Carolina Parenting Inc. is pleased to announce the N.C. Family-Friendly 50 companies for 2012, selected in conjunction with the UNC Kenan-Flagler Business School. Information about each company's family-friendly offerings is available at the links below. Companies opted to participate by providing information about benefits, programs and services after being nominated.
Find more work-life balance articles and information. Learn how Charlotte moms and dads mix work and family successfully!
2012 Family-Friendly 50 Companies
Click links below to view full company profiles. (Listed alphabetically, not by rank)
Advanced Home Care Kao Specialties Americas LLC Alamance Regional Medical Center Kindermusik International Alston & Bird LLP KPMG LLP American Institute of Certified Public Accountants (AICPA) L&E Research Angus Barn, LTD. Lyerly Agency Arysta LifeScience North America Mulkey Engineers & Consultants Auto Logic Nationwide Bayer CropScience Novant Health BDO USA LLP Novo Nordisk Biogen Idec Olive Law Firm, The Blue Cross and Blue Shield of NC Progress Energy Bright Horizons Family Solutions Providence Day School Capitol Broadcasting Company Qualcomm Caterpillar Building Construction Products Division Replacements Ltd Charlotte Eye Ear Nose and Throat Associates, PA Rex Healthcare Coastal Federal Credit Union Rho Inc. Coleman Lew + Associates Inc. RTI International Copernicus Group IRB The Steel Network Inc. Duke University & Health System TIAA-CREF Ernst & Young LLP Time Warner Cable Grant Thornton LLP US Environmental Protection Agency Hannover Life Reassurance Company of America Vanguard IBM Corporation WakeMed Health and Hospitals Inmar, Inc. Ward Black Law Integrated Laboratory System Inc. Workplace Options