2012 Kids Art Contest Winners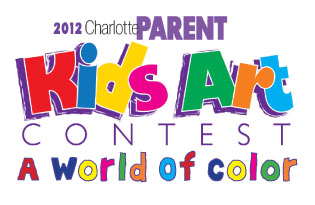 Children from all around the Queen City used crayons, markers, paint, watercolors and cameras to showcase their representation of "A World of Color," this year's contest theme. We received almost 400 entries from children throughout Charlotte and surrounding communities that were filled with vivid, vibrant colors that captured the spirit of art and creativity.
Winners were selected by a group of VIP judges, and will be celebrated at the Kids Art Contest reception, April 22, 2-4 p.m., at the Levine Museum of the New South, where certificates will be available for pick up. Join us at the reception, meet the artists, and view the winning artwork and other selected entries.
GRAND PRIZE WINNER


"My Mind"
By Asherel Kaseorg
Kaseorg Home School
Editor's Pick


"Colorful Harmony"
By Aaron Jordan
Kennedy Middle School
Grades K-1


1st place
"Sparkle of Life"
By Samantha Craig
Pineville Elementary
2nd Place
"The Sunset"
By Rylee Dyer
Elon Park Elementary
3rd Place
"Rainbow Ballerina"
By Elyse Wallace
Victory Christian Center School
Grades 2-3

1st Place
"Pink Dream of Flamingoes"
Elizabeth Park
Elizabeth Lane Elementary
2nd Place
"The Turtle"
By Ishan Patel
Harrisburg Elementary School

3rd Place
"Boxes of Color"
By Aanika Khansaheb
Ballantyne Elementary
Grades 4-5

1st Place
"All the Different Colors, Yet 'One' Blue Sky"
By Muskan Uppal
Cannon School, Concord
2nd Place
"Painting is My Desire"
By Esther Kang
Marvin Elementary, Waxhaw
3rd Place
"Magical Palette Colored the World"
By Priyam Bhardwaj
Ballantyne Elementary
Grades 6-8

1st Place
"Earthly Reflections-United Through Beautiful Colors"
By Lauren Yim
Community House Middle School
2nd Place
"Colors of Universe"
By Tae Gyung Yang
Jay M. Robinson Middle School
3rd Place
"A World in Color"
By Emma Edmondson
Carmel Middle School
Grades 9-12

1st Place
"Color in Crossroads"
By Katie James
Mooresville Senior High School, Mooresville
2nd Place
"Color My World"
By Uday Uppal
Cannon School, Concord
3rd Place
"Creation of Nature"
By Hyung Ji Yang
Providence High School
Photo/Digital 1st Place
"Leaving a Color Trail"
By Brandon Romeo
J.N. Fries Middle School, Concord

View all Kids Art Contest entries!
Special thanks to:
Carolina Asthma and Allergy Center for their continued support of the Kids Art Contest.