2010 Charlotte Parent Family Favorites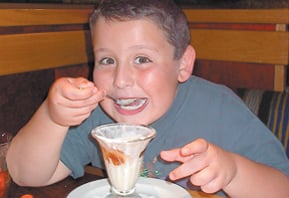 Looking for the best family festival in the area? How about a great ice cream shop for a summer treat? We asked Charlotte Parent readers to share their favorite places to eat, play, shop and explore … and more than 350 readers responded! We tallied the votes for the best family-friendly sporting events, enrichment programs, eateries, pediatricians and a lot in between.
Next time you're looking for a new place to try, follow our readers' lead and support these winners. Keep an eye out for their certificates of recognition and tell them Charlotte Parent sent you.
Where does your family like to eat, play and explore? Share your top picks in our 2011 Readers' Favorites. Deadline to submit 2011 picks is April 30, 2011.
Explore These 2010 Family Favorites Selected by Charlotte Parent Readers
Out & About
Annual Festival/Event: Festival in the Park
Day Trip: Riverbanks Zoo in Columbia, S.C.
Field Trip: Lazy 5 Ranch
Indoor Playground: Monkey Joe's
Live Performance: Children's Theatre of Charlotte
Museum: Discovery Place
Park/Playground: Freedom Park
Place to Ride Bikes: Freedom Park
Place to Take Visitors: U.S. National Whitewater Center
Pool/Spray Park: Ray's Splash Planet
Sporting Event: Carolina Panthers
Dining Out
Ethnic Food: Thai Taste
Family Restaurant (non-chain): Big Guys Pizza
Ice Cream/Treats: Bruster's Real Ice Cream
Kids Eat Free: McAlister's Deli
Enrichment
Arts/Music Class: Noah's Art
Dance/Cheer: Miller Street Dance Academy
Equestrian: Latta Equestrian Center
Gymnastics/Fitness: (It's a tie!) My Gym and Harris YMCA Martial Arts and Charlotte Martial Arts Academy
Day Camp: Harris YMCA
Residential Camp: Camp Thunderbird
Story Time: Barnes & Noble
Tutor: Lazar Center of Learning & Achievement
Health Services
Family Dentist: Laxer, Long & Savage
Orthodontist: Burrow & Case Orthodontics
Pediatric Group: Charlotte Pediatric Clinic
Places to Give Birth: Carolinas Medical Center (main campus)
Special Needs Services: Carlton G. Watkins Center
Party Time
Birthday Cake: Harris Teeter
Party Facility: Sports Connection
Party Entertainer: Wish Upon A Star
Shopping and Services
Children's Haircuts: Pigtails & Crewcuts
Consignment: Once Upon A Child
Toys: Toys & Co.
On the Web
Mom Forum & Parent Support Group: Charlotte Mommies
Best-Kept Secrets
Free Child Care at Local Y – The Steele Creek YMCA offers two hours of free child care every morning and late afternoon for member families.
Hall Family Farm – Located on Providence Road, south of U.S. 521, this family-owned and operated farm is loaded with kid activities, fresh strawberries for the picking and locally made products.
The Coffee Garden – Look for Brewster the Bear at this kid-friendly coffee shop in the Stevens Mill Area in Matthews.