20 Gifts Your Kids (and You) Will LOVE!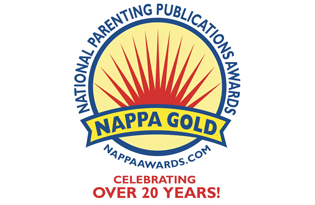 The year's best toys & games!
Feeling pressured to find the perfect holiday gifts for the little ones in your life? Stress no more. The 2011 National Parenting Publications Awards (NAPPA) for children's products are here to make your holiday shopping a breeze. From the year's finest toys and games to CDs, DVDs, apps, software and websites, these Gold Award-winning NAPPA products have been carefully tried, tested – and played with – by expert judges and kid testers alike. They chose these winners for their educational and entertainment value, safety and durability, and most importantly, because they're fun! Whether you're shopping for a little techie, gamer, artist, music-lover or bookworm, you'll find what they're craving among the NAPPA winners.
TOYS
By Ellen Metrick?
INFANTS & TODDLERS

Kidoozie Stack N Roll Tumbling Tower
Don't construct just to destruct! Reinvented stacking cups extend traditional play to include problem-solving, muscle strengthening and the beginnings of reading readiness. A funnel top, balls and a hole in each cup keep kids' interest long after their tower is built. International Playthings LLC, $24.99; www.intplay.com; ages 1 and up.?
K-Magic
Top Pick | Special Needs Pick
Crib companion, on-the-go amigo and teacher of tots – this hand-held electronic learning toy can entertain and soothe babies. Plus, the 20 educational cartoons, 288 learning games and other neat activities will prepare them for school-time success as they grow. The Ohio Art Company, $199.99; www.ohioart.com; infants and up.
?
PRESCHOOLERS



Hexbug Nano Hive Habitat Set
The preschool set can create roadblock diversions with spinners, ramps and tab dividers for the erratically quirky, hyper Hexbug to scamper around. When play is done, the set can be left completely intact, folding up securely for next time. Innovation First Labs LLC, $34.99; www.hexbug.com; ages 3 and up.?
Kid-Tough See Yourself Camera
Best Bang for the Buck
If only we had as much memory as this handy, kid-friendly camera. An internal memory of 256 megabytes lets kids snap 1,300 pictures or five minutes of video. Kids can easily take pictures of themselves or friends using the ingenious rotating lens. Special effects can embellish pictures before or after snapping. Fisher-Price, $69.99; www.fisher-price.com; ages 3 and up.?
Mimicking Monkey
This ultrasoft bedtime companion whispers reassuring messages from Mom and Dad, which can help keep troublesome nighttime frights at bay. Dual-track voice-over allows 10 seconds of recording and can be quietly played back along with prerecorded soothing sounds. Cloud B, $34.95; www.cloudb.com; ages 3 and up.
?
BIG KIDS



Brilliant Creations Advanced Notebook
This laptop has the look and feel of a real computer! The 4.5-inch color LCD screen comes equipped with 120 activities to engage young learners with the fundamental skills of math, reading readiness, Spanish, music and more. VTech; $49.99; www.vtechkids.com; ages 5 and up.?
Meon Deluxe Animation Studio
Sure to be a holiday hit! Your children can thread the light-up tubing through specifically placed pegs, then turn the frame on to see their design glow in neon splendor. Extend play with games like Memory, Fortune Teller and Sound Visualizer, which flashes to the beat of their own music. Skyrocket Toys, $29.99; www.meonglow.com; ages 5 and up.?
3D Twister
This mini remote-controlled car delivers pocket-size power. Speeding up to 14 mph, it can hurl off stairs and across road ramps and still land unscathed. The dual-sided car knows what side is up, so driving directions remain consistent and uninterrupted. Pistol-grip remote rumbles to feel the impact of crashes. Silverlit, $49.99; www.silverlit.com; ages 8 and up.?
Little Green Money Machine
Family Fun | Judge's Pick?
The playful pastime of a lemonade stand gives children much more than a cup of juice. This ultimate business stand assembles easily with no tools, while the accompanying book gives young entrepreneurs the tools needed to learn how to run a successful business. DelVisionaries, $199; www.littlegreenmoneymachine.com; ages 9 and up.?
Cécile and Marie-Grace Best Friends Collection
Beautifully crafted dolls teach about the experiences of two friends during the troubling time of the 1853 New Orleans Yellow Fever epidemic. They come from different economic and racial backgrounds yet tell similar stories in first person to give readers a history lesson from their perspective. American Girl, $234; www.americangirl.com; ages 8 and up.?
Nanoblock
Once you have mastered traditional brick building, test your skill and empower your patience by constructing minute, amazingly detailed objects with these tiny interlocking blocks. Tweezers will be your tool of choice. Quitters need not apply! The Ohio Art Company, $7.99-$14.99; www.ohioart.com; ages 8 and up.?
Papertoy Monsters
Quirky creatures with goofy bios await your inner ghoul. Crack open the book to unleash mystical, magical monsters. Fifty perforated, paper-folded fiends pop out to an ageless audience eagerly waiting to assemble their own ogres. Workman Publishing, $16.95; www.workman.com; ages 9 and up.?
Perplexus Epic
Mastered the original Perplexus? Need a new challenge? With four starting points and 125 barriers to finesse through, Perplexus Epic delivers! Three practice runs get you warmed up before tackling the maze of all mazes. Teeter totter and slide bucket provide extra intensity and anxiety-provoking fun! PlaSmart Inc., $29.99; www.plasmarttoys.com; ages 8 and up.?
GAMES
By Peggy Brown
Richard Scarry's Busytown Busy Busy Airport Game
The box bottom transforms into an airport with a dice-rolling control tower. Charming, detailed illustrations make for wonderful imaginative play. Kids can fly their planes to faraway destinations (around the room), collecting souvenirs along the way. Wonder Forge, $19.99; www.thewonderforge.com; ages 3 and up.?

Color Stix
Arrange and rearrange your striped "stix," lining them up to make "blocks" of colors in a race against time and each other. The vibrant colors make for a visually beautiful play experience. MindWare, $19.95; www.mindware.com; www.mindware.com; ages 5 and up.?

Trucky 3
A puzzle, a game and a toy all in one, Trucky 3 is as simple or as challenging as you want to make it. Pack the clear payloads of three high-quality wooden trucks with funky-shaped blocks. There's only one solution to each well-illustrated challenge. Smart/Tangoes U.S.A, $24.99; www.SmartGames.eu; ages 3 and up.?

Highlights Buzz Blast
Hot Potato meets kid-friendly brainteasers! Solve the problem at hand in your own unique way, then pass the "Buzz Blaster" timer so that the next player can solve the same problem his way. Loaded with content, it's a different game each time. Highlights for Children, $24.99; www.discoverybaygames.com; ages 7 and up.?

Joe Name It
Big fun comes in this tiny game where a simple die roll indicates a quantity in every question. Play against each other and against the imaginary "Joe." "Any Joe" means all-play; "Just Joe" means you go it alone. Either way, every Joe has a good time. Gamewright, $9.99; www.gamewright.com; ages 12 and up.?

Reverse Charades
Instead of you acting out a word or phrase and having your team try to guess, this game has your whole team acting while just you get to guess. Chaos and hilarity are guaranteed in this fresh twist on an all-time classic. RETROPlay, $23.99; www.ReverseCharades.com; all ages.?

Meet NAPPA's Judges
Toys – Ellen Metrick consults with major toy manufacturers on product designs, from initial concept through post-production. She has written extensively on creative applications for play products, including a bimonthly column for ASTRA (American Specialty Toy Retailers Association). The lead evaluator for the Toys 'R' Us Toy Guide for Differently-Abled Kids for 15 years, Metrick currently serves as manager of business development at the National Lekotek Center, a nationwide nonprofit that focuses on accessible play for children of all abilities.
Games – Peggy Brown works for many of the world's biggest toy companies as an inventor, designer, writer, creative director and consultant. She won the TAGI award for game design, a prestigious honor in the toy industry. Kim Vandenbroucke is a game inventor and developer, and president of Brainy Chick Inc. She writes for Games for Educators (G4ed.com) and runs a game review website, TheGameAisle.com.
Find all the gifts your kids will love among the NAPPA Gold and Honors winners featured at www.NAPPAawards.com, where you can also shop for these products online!
?
?View Part 2 of our 2011 NAPPA Gold Winners' coverage? for the year's best books, magazines, DVDs, music and more!