15+ Attractions for Center City Summer Fun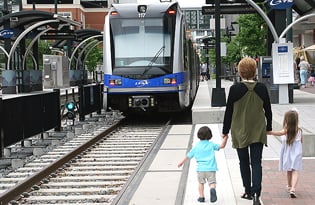 A giant mirrored bird that "tweets," a stagecoach in the middle of town, and a taste of "rural" in the urban center are some of the discoveries my grandchildren found while on an uptown, urban safari with Grandma Moira.
Our adventure began at the Interstate 485 Lynx Blue Line station. Tori, 4, Max, 2, their mom and I added a light rail ride for extra fun (even though free on-street parking is plentiful on weekends uptown, and parking deck rates range from $3-$10). Our first uptown stop was Third Street Station.
The Charlotte Convention Center is an interesting inside passage from the light rail and a nice escape from outdoor elements. Outside the College Street entrance is a fountain the length of the plaza, perfect for tossing coins, and a thrill for Max.
Across the street from the Convention Center is The Green, an art-and-education-themed pocket park. Max and Tori loved the book sculptures, funny signs and interactive art –especially the sound features built into the rock walls. But the best feature of The Green is the computer-timed Fish Fountain. Water jets up and out of the fishes' mouths, sending giggly children running from one end to the other.
The Green connects to the Levine Cultural Campus, where you'll find the Bechtler Museum of Modern Art, Mint Museum Uptown, Harvey B. Gantt Center for African-American Arts + Culture, and the Wells Fargo Museum (as well as some great new restaurants).
The Nikki de St. Phalle Firebird shines in front of the Bechtler Museum of Modern Art. It's one of the most photographed places in Charlotte, and you can see yourself in the Firebird's mirrors. The Firebird is also interactive and has its own Twitter handle. Tori and I "talked" to him by tweeting to @discochickenCLT. We didn't tweet to the Duke Energy Center, but it "tweets" as well under @wellslightsclt and @Voltron to explain the LED, or light-emitting diode, color schemes that light up the building at night.
The Mint Museum is surprisingly family friendly with accessible exhibits and intriguing art. Children 5 and older and their parents are encouraged to pick up an Art Pack from the front desk. Different themed packs provide in-depth exploration of artwork in the galleries.
Tori and Max enjoyed walking through the Mint Museum shop. Watch tiny hands and fast fingers, however, as there is valuable stuff all around, as well as lots of fun items for kids.
One of the newest hot spots for kids is the Wells Fargo Museum. We loved the real stagecoach with the free family portrait, as well as our pictures on "money." Just sit in the photo booth, line up your face in the silhouette, and out pops "money" with your picture instead of Mr. Franklin! And the kids can enjoy the little stagecoach ride; no quarters needed.
If you don't mind warm summer temperatures, hit the street and take in the public art as you walk north along Tryon Street. We decided to use the Overstreet walkway to see inside art. We emerged at Hearst Plaza and continued to Arequipa Park in front of the Main Library at Tryon and Sixth streets, a tribute to our sister city Arequipa, Peru. You'll find another great fountain there, which Max loved.
Make your way to the Levine Museum of the New South on Seventh Street for hands-on fun. Touch bolls of cotton with seeds; play dress-up in stores along the 1940s Tryon Street; and sit in a 1970s bus that integrated our schools.
Next door, in Seventh Street Station, is the new 7th Street Public Market. Here, kids can learn where food comes from and interact with farmers, butchers and bakers.
Tori really loved the fish tank at The Meat and Fish Market and the Pure Pizza lunch with sprout and stone-wheat crust.
After lunch, we went next door to ImaginOn, which houses the main children's library and Children's Theatre. Outside of ImaginOn is great outdoor art, including a stepping stone typewriter that kids love to jump on, my grandchildren included.
At the end of our exploration, we caught the Lynx at Seventh Street Station. While we waited for the train to arrive, we "played" the carillon panels. The colorful panels sing when touched. It was a perfect way to end our urban adventure.
For more information about uptown venues, go to findyourcenter.com.
Moira Quinn is senior vice president of communications and chief operating officer of Charlotte Center City Partners, and grandmother of Tori and Max Klein.

4 Tips for Taking Your Kids Uptown
1. Beat the heat. Walk the Overstreet walkways. Ask security guards for help with strollers in walkways, as steps in some places make it hard to maneuver a stroller alone.
2. Carry cash. Not all shops, kiosks and outdoor food vendors take credit cards.
3. Bring a change of clothes for the kids. Outdoor fountains are hard to resist.
4. Hold on to your light rail ticket. You'll need it for your ride home.