11 Ways That Local Kids Made Their Parents Smile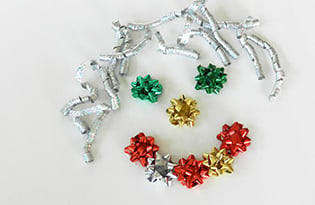 We expected to get some great answers in Day 2 of our 12 Days of Giveaways, but we were blown away by the multitude of touching responses that we received. Some made us laugh and others made us cry, but they all reminded us of one important thing — family is the greatest gift of all. 
Read on to find out how local parents answered the question, "What is the best gift your child has ever given you?"
A simple kiss and hug. I love when they give me "sugar" and a heartfelt hug. I'm a single mom so when they tell me they appreciate what I do and they love me it's so rewarding!
Candice Washington
My daughter just turned 3 and she is definitely my mini-me. It's been a gift to have her as my mirror for it makes me strive to be better. I see my actions and attitude reflected by her so when I see her behave in certain ways, I know where she learned it. Consequently, I try to be more patient, positive, calm, etc. so that she will be as well. 
Tracey
My kids found one of the last letters I received from my dad before he passed away. I thought it had been accidentally thrown away, as I could never find it. With a little help from daddy, they had it framed, and gave it to me on my dad's birthday. Every time I look at it, I think of my sweet, tender-hearted little girls! 
Abbey McCracken
My son had a leftover popcorn wrapper from Blackhawk hardware and wrapped it up and said, "Here Mommy, here is your flower I made you." It was the most beautiful flower I have ever received. 
Jessica McMasters
My son is now 4 years old. He was born a micro preemie weighing 1 pound 6 ounces on December 3, 2009. I wasn't able to hold him until Christmas Day. He had to get strong enough for me to hold and I remember looking in at him when he was born hoping I could hold him by Christmas. It was a wonderful Christmas gift for me as a mom to hold him and was the best gift he could probably ever give me. 
Ami W.
The best gift my 2 year daughter has even given me is telling me that she loves me! It's such a precious thing to my husband and I when she expresses her love.
Megan W.
The most meaningful gift my 4 year gave me was a picture she drew of our family including her baby sister, who passed away as an infant. At the time, I was pregnant again and she included the new baby too. She's such a tender hearted girl.
Kate
My kids are still very little but the best gift is their hugs. They give the best big squeezey bear hugs.
Alyssa
The best present my kids have given me is a card with their handprints. My 5 year old wrote the note herself.
Kitara B.
The greatest gift my daughter has given me is to see the world through the eyes of a two year old. Its really just going back to basics and seeing life as a blessing full of excitement and wonder. Taking a walk around the block might take a couple hours but its exciting to pick up leaves and feel tree bark or look at a bird fly by us. I am truly blessed to have her in my life.
Haley Fogarty

Despite my best attempts, my 4-year-old had no interest whatsoever in writing or drawing anything until he started preschool this year. Now he wants to write all the time. The best gift he has given me was when he made a card for me, with his name and some other random letters written on it, and told me he did it because he loves me. I melted — and definitely saved that card!
Lisa Hassell
Keep 'em coming! What gifts have your children given you? Share with us in the comments field below.
Related Links:


Parents' Choice: Fave Holiday Books


Local Parents Share Their Favorite Holiday Traditions


15 Fun Elf on the Shelf Ideas