10 Tips to Get Through the Work Week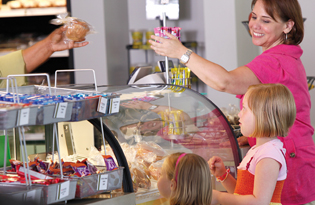 Some weeks can seem endless. And when you add a career or two into the mix, plus a family, circumstances typically become more complicated. Between managing your home and juggling the kids' homework, lessons and other extracurricular activities, to getting it all done at the office while still taking care of yourself, it's natural to feel like your to-do lists (and your stress level) are ever-growing.
Several parents shared their methods for making it through the week without melting down.
1. Find relaxing things to do as a family.
Robert and Kate Conrad of Huntersville like to make outdoor activities a priority for their family. They say it gives them a chance to relax and spend time together without thinking about the stresses of work and school.
As a hotel manager, Kate goes to work early in the morning and gets off early in the afternoon. Robert is a sound engineer and works evenings, so they spend most of their afternoons at the neighborhood pool, where they and their kids, ages 5 and 7, can socialize with friends.
Weekends often are spent at Lake Norman. "We like going out together on a pontoon boat with our friends and their families when the weather is nice. It's a break from our routine," Robert says. The family also enjoys blueberry-picking trips to the mountains, and tubing and kayaking on the New River.
2. Hire a babysitter and enjoy a "date night."
For Nat and Carmen Taylor of Raleigh, parents of children ages 1, 2 and 6, occasionally planning a romantic night out for dinner and a movie provides a wonderful opportunity to relax and recharge. "A date night gives you a chance for some uninterrupted, one-on-one conversation, and it's a nice time to wind down with your spouse apart from the children," Nat says.
SEE ALSO: 5 Tips for Finding a Babysitter
3. Stick to your regular routine as often as possible.
Derik Broach of Greensboro has a 7-year-old son and stays busy as the owner of a media agency. He admits it's hard to leave his work at the office, particularly because he's self-employed.
"My wife, Sarah, is an excellent scheduler, and we try to manage our time by sticking to a routine when it comes to mealtimes, bath time, bedtime and other activities like Cub Scouts," he says. "I believe the No. 1 thing to help keep stress at bay for a family is keeping a routine."
4. Schedule "me" time.
"It's really important to make sure that I do something only for me, so this past January I started a women's coffee gathering in the mornings once a week before work, and it has transformed my life," says Sharon Nelson, the executive director of an artists' association in Winston-Salem and mother of a 12-year-old daughter. "It's not work-related, and it's not about networking or politics. It's a bunch of women who get together and have fun over coffee. It's light and silly, with lots of laughter."
SEE ALSO: Find a balanced approach to your busy life at the 2014 Moms@Work Conference
5. Plan meals for the week and shop ahead.
Allison and Gant Hewett of Lewisville say weekly meal planning is helpful to them and their sons, ages 4 and 7. "We usually wait until the grocery sales come out in the paper on Wednesday, and we plan our menu for the next week on Thursday or Friday," Allison says. "We involve the kids, and they suggest things for dinner. We take them shopping, too. By planning our meals, we also eat better and spend less money on food. It's much more efficient."
6. Make the most of the weekends.
Megan Whelen, a medical writer in Winston-Salem, is the mother of two boys, ages 10 months and 3. Even though weekends generally are regarded as relaxation time by most people, Whelen says she prefers to get as much done at home as she can, within reason, while she and her husband, Jim, have time off from work. "On weekends, we go grocery shopping, do laundry, and try to get ready for the week and make sure we have what we need, so we'll have time at night to unwind."
7. Explore the resources available to you at work.
There's no shame whatsoever in talking to a professional if you need someone to offer advice or just listen. "A lot of workplaces have employee-assistance programs, and they're good programs that provide free and confidential therapy or counseling," says Caroline McCloud, a Charlotte licensed social worker. Your employer or anyone else will not be privy to the information you discuss during these sessions. "If parents are really having a tough time dealing with stress, they need to know that there is help available."
8. Disconnect from technology and reconnect with family.
Although it's hard not to focus on incoming e-mails and voice mails, Marcus and Jennifer Asberg of Wake Forest tune out after work when they're home with their 3-year-old daughter. "I don't look at my Blackberry, because I've learned that most of the communication I receive involves issues that can wait until tomorrow," says Marcus, who is a government health-care consultant.
9. Ask for help from family and friends.
After losing her job in Charlotte in 2005, Heather Freeman, a single mother of two children ages 5 and 7, decided to relocate to Winston-Salem to be closer to her mother and sister. She now works as an administrative specialist until 5 p.m. most weekdays.
"My mother picks up both of my children daily so that I can work and don't have to pay for after-school care," she says. "She also takes my children to church with her on Sundays, and I have a few hours to handle household chores, mow the grass and go grocery shopping."
Freeman's sister also helps with errands and babysitting. "Without my family being there to help, I don't know how I'd do it all," she adds.
10. Say "no" without feeling guilty.
Ellyn Quesnel, the mother of two children ages 4 and 6, says she's frequently asked to participate in school-related events and social engagements, but there are only so many hours in a day. Sometimes she has to politely decline.
"Saying 'no' is important," the Winston-Salem mom says, noting women who work part time or have a home-based business often are frequently asked to volunteer. "People think you've got the time, but you don't always," says Quesnel. "Being able to say 'no' from time to time is critical."
Tammy Holoman is a Winston-Salem-based freelance writer.