10 Tips for Family-Friendly Interiors
Fabrics and finishes no longer have to sacrifice good looks for durability.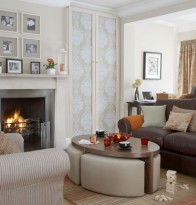 When I was growing up we had a beautiful, professionally decorated living room that me and my four siblings were only allowed to glance past. Perhaps on Christmas and Easter we were allowed in, but we had to be on our best behavior. The rest of the time we were banished to the "Rec Room" to watch TV or hang out. The upholstery was heavy duty Herculon that was purchased for its durability but definitely not for its looks! The walls were paneled and the floors were patterned to hide the dirt.
Thankfully, times have changed and "museum rooms" are a thing of the past. Fabrics and finishes no longer have to sacrifice good looks for durability. Now it is much easier to have both a beautiful home AND kids. Here are ten ways to make it happen:
Select easy to clean flooring like hardwoods, bamboo, stone, or luxury vinyl. Spills are no worries since you can mop the mess up in an instant.
Choose low maintenance furniture that will resist staining. Sensibly Chic has a custom line of stain free furniture that will stand up to whatever your kids (or spouses) dish out.
Get creative with seating. Kids come in all sizes, so offer seating otpions in all sizes, too. In addition to sofas and chairs, throw in some benches, ottomans, and poufs for fun options for lounging.
Paint your walls with eggshell or stain finish paint so all those hand prints and scuff marks will wash off easily.
Look for tables and cabinetry with distressed finishes. THe dings your kids add will only add to the character instead of stressing you out.
Make sure all edges are rounded or have soft, padded corners. No sharp edges and definitely no glass top tables!
Integrate storage into every area: cabinets, shelves, storage ottomans, bookcases, bins, and baskets. A home with kids can never have too much storage.
Avoid fabric draperies since dirty hadns can do irreparable damage. Better options are wood or bamboo shades or plantation shutters since they are easy to wipe down.
In the bedroom look for beds with storage compartments underneath for additional storage for toys or clothing.
Cover beds in machine washable bedding. I recommend duvet covers since they slip off the filler and go into the washing machine as easily as a pillow case.
Now you are fully armed with ten ways to make your home family friendly. What other ideas do you have? Please share them with the readers in the comments section below.