10 Reasons Preschool Programs Benefit Children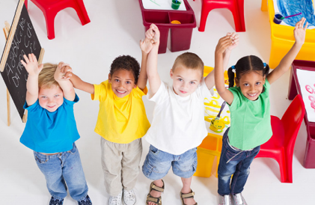 Preschool programs help parents provide their children with the rich background of experiences necessary for success in school. Preschools can offer your child these benefits:
1. Training in social skills. Through playing with other children, a child picks up the skills of sharing, negotiating and cooperating, and gains experience in forming friendships.
2. An awareness of others' feelings. A child learns that others share his worries, fears and delights.
3. A greater trust in adults. by finding out that other adults will care for him, a child learns that he can trust adults other than his parents.
4. A greater sense of independence. Learning that attention must be shared with others makes the child more self-reliant.
5. Improved listening and speaking skills. A child has to develop these skills to communicate successfully with the teacher and other children.
6. New experiences. From trips to a bakery to new songs and dances, a child is introduced to activities that help him learn more about the world.
7. Stimulation and activity. A child gets to play with a variety of equipment and materials in a place primarily designed for play.
8. Increased self-esteem. By succeeding at school tasks, a child becomes more confident of his abilities.
9. The satisfaction of belonging to a group. A child gains an appreciation of what school is like and develops a positive attitude toward school. He also becomes more comfortable with being away from home for part of or the whole day.
10. Solid preparation for kindergarten. With today's kindergartens turning into yesterday's first grades, preschool now offers the background for success in school that children used to get in kindergarten.
Peggy Gisler and Marge Eberts are experienced teachers who together have more than 60 educational publications to their credit.