14 Must-Visit Ice Cream Spots in (or Near) Charlotte
On the hunt for a cold, sweet treat? We've got you covered.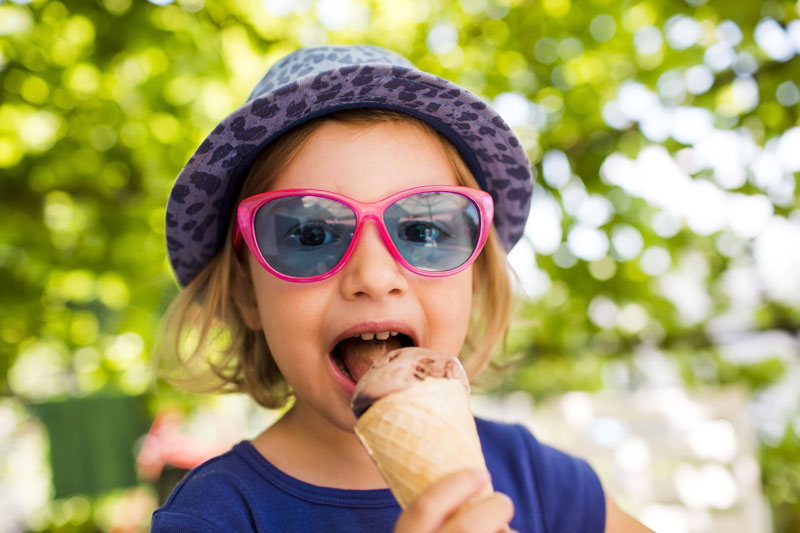 With National Ice Cream Month in July, it's a great time to get the family involved in some taste-testing to decide which is your fave. Here are 14 places to get a cool treat this summer when you get a hankering for something sweet.
South End – 1920 Camden Road
NoDa – 416 E. 36th St., #400
Park Road Shopping Center – 4203 Park Road
Blakeney – 9828 Rea Road
If you want to experience true artisan ice cream, Jeni's is the place to go. There are plenty of choices for chocolate and vanilla lovers, but you'll also find unexpected flavors like Goat Cheese with Red Cherries, Sweet Cream Biscuits with Peach Jam, Coffee with Cream & Sugar, and so many more. Jeni's also serves frozen yogurt, sorbet, and dairy-free options. You know you've found what you are looking for when you see the line. Don't worry, it's totally worth the wait.
Locations in Plaza Midwood, Lake Norman, South End, and Rock Hill 
Remember the ice cream spot you went to growing up that served creamy goodness you dream about on hot days? This. Is. The. Place. Two Scoops Creamery is run by three best friends who deliver some of the best ice cream in town. They offer 32 flavors ranging from classics like strawberry and vanilla to more creative flavors like bubble gum and Smurf marshmallow. Don't forget to take pictures of your kids with their favorite flavor in front of the hand-painted murals.
---
SouthPark – 720 Governor Morrison St.
South End – 170 West Summit Ave.
Uptown – 601 S. Tryon St.
Started by North Carolina natives Liz and Alex Hannah (pictured below), this quaint ice cream shop has locations in South End's Gold District and SouthPark's Morrison Shopping Center. You can feel good as you woof down your cone, as a portion of the proceeds from every sale goes to a local charity. Golden Cow Creamery always has the same six flavors on the ready, plus three to four small-batch creations that will blow your mind. You can also choose from at least one non-dairy, vegan option, so bring your lactose-intolerant friend along.
---
NoDa – 3123 North Davidson St, Ste. B
Camp North End – 270 Camp Road, Ste. 105
This shop serves customizable popsicles made daily from gelato, sorbet, and yogurt. This spot isn't just trendy; it's guilt-free. The lactose-free, vegan-friendly popSorbettos are all less than 80 calories. The popGelatos are less than 200 calories, and the yogurtPops, at 100 calories, are low fat and cholesterol-free. All of these treats are gluten free, Kosher certified, and contain no artificial coloring or preservatives—but you don't have to have a food restriction to enjoy these frozen treats.
South Charlotte – 5355 Ballantyne Commons Pkwy., Ste. 100
Downtown Matthews – 105 W. Charles Street
Parktowne Village – 1600 E. Woodlawn Road, Suite 110
It's all in the name. This heavenly ice cream is locally made from locally sourced dairy. Everyday you'll find a rotation of flavors, plus eight different non-dairy options.  Their to-go "Survival Kit" (two pints, four toppings, hot fudge, and cones) became a big hit in South Charlotte during the pandemic, offering families the chance to have an ice cream sundae party at home.
---
University – 9009-4 J. M. Keynes Drive
Rock Hill – 502 Cherry Rd Suite 105
The macaroon ice cream sandwiches are as artful as they are delicious. The menu also includes some wacky milkshake combinations, including some topped with Lucky Charms, Fruity Pebbles, Cracker Jacks, and an assortment of sugary snacks.
---
Camp North End – 701 Keswick Ave, Unit 102
Technically, this is a frozen dessert shop, as their treats are all 100% dairy and egg free. Even their waffle cones (which are also gluten free)! They flavors are just like their name – Don't Call Me Inefficient is peanut butter chocolate, Easy to Please is their chocolate. You get the idea – giggle at the name, read the fine print to figure it out.
---
South End – 1425 Winnifred St #104
Huntersville – Birkdale Village
Morelia serves ice cream paletas – a frozen Mexican pop treat that is typically either fruit or cream based. You can have your paletas on a stick, with or without toppings, or blended into a milkshake. Choose from over 16 flavors, or combine them to make your own.
---
Plaza Midwood – 1308-A The Plaza
The female-owned, chef-driven shop likes to play with flavors. Try options like Hazelnut & Miso Caramel, Lavender BlackBerry Cake, Blueberry Jasmine, or Chocolate Honey & Banana Carmel, all served in a house-made brown butter waffle cone.
---
Outside the Heart of Charlotte:
Located in downtown Waxhaw, you can usually spot the cute shop by the line stretched outside the door. The craft creamery sells daily homemade ice cream and Italian ices in a variety of rotating flavors.
Cornelius
Carolina Cones opened in Cornelius in 1983 and has been serving scoops to happy customers ever since. Little ones will love the train track (complete with train) zooming overhead, and kids of all ages can check out the vending machines with trinkets in the back of the store. There's also a playground and a garden center next door if you want to shop for flowers while you enjoy your cone.
Matthews
Bruster's is the place to go when the members of your crew are all craving a different kind of cool. This cute shop in downtown Matthews has it all: classic sundaes, waffle cones, shakes, yogurt, sherbet, sorbets, and more. They are out to please the entire group, with free baby cones to children under 40 inches and free "doggie sundaes" to the four legged family members.
---
Gastonia
Tony's is a Gaston County landmark. It makes its product in-house (talk about homemade) one half-gallon at a time and sells it to other local shops and stores throughout the state. Located in downtown Gastonia, Tony's has affordable lunch options along with its 28 flavors of ice cream, milkshakes, banana splits, and sundaes.
---
Mint Hill
This spot gets popular when warm evenings roll around. People wait patiently in line for a scoop of the homemade creamy ice cream and freshly made waffle cones. Whatever flavor your choose, you're headed for sweet-tooth satisfaction.