10 Must-Visit Ice Cream Spots in (or Near) Charlotte
On the search for cold, sweet goodness? Start here!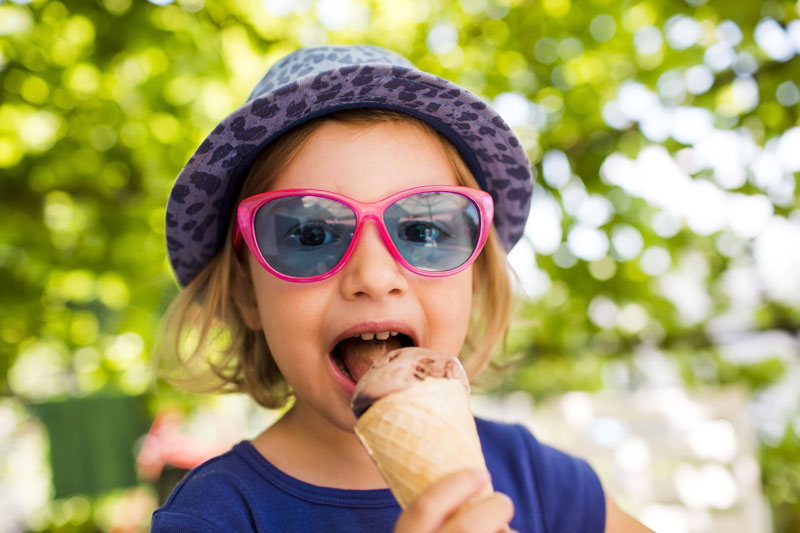 Who says you need warm weather to enjoy a cool treat? With the Carolinas mild temps, any time is perfect to dive into ice cream, milkshakes, popsicles, frozen yogurt, gelato, snow cones, or whatever makes your taste buds sing. With National Ice Cream Month in July, it's time to get the family involved in some serious hands-on research to decide which is your fave. Here are the best 10 places to get a cool treat this summer whenever you get a hankering for something sweet – seven in the heart of Charlotte and three on the outskirts.
If you want to experience true artisan ice cream, Jeni's is the place to go. Don't worry there's some for chocolate and vanilla lovers too but, you'll go from "what?" to "delicious" with your first taste of Goat Cheese with Red Cherries, Sweet Cream Biscuits with Peach Jam, Coffee with Cream & Sugar and so many more. Made with all natural ingredients by a James Beard award-winning author, Jeni is on the cutting edge of ice cream. Jeni's also offers frozen yogurt, sorbet and dairy-free options. You know you have found what you are looking for when you see the line. Don't worry, it's totally worth it. Jeni's is currently located in South End with plans to expand to Park Road Shopping Center and NoDa.
Remember the ice cream spot you went to growing up that served creamy goodness you dream about on hot days? This. Is. The. Place. Two Scoops Creamery is run by three best friends who deliver some of the best ice cream in town. They offer 32 flavors ranging from classics like strawberry and vanilla to more creative flavors like bubble gum and Smurf marshmallow. What can be better than insta-worthy scoops of goodness heaped in a cone or cup? How about taking pictures of your kids with their favorite flavor in front of the hand-painted murals. Locations in Plaza-Midwood, inside Sabor on Camden Ave. in South End and in Mooresville, North Carolina.
---
The secret to Golden Cow Creamery deliciousness is pure North Carolina. Started by native North Carolinians and proud Charlotte residents, Liz and Alex Hannah (pictured below), this quaint little ice cream shop in the Gold District of South End and Morrison Shopping Center in South Park offers homemade ice cream made using only fresh milk, cream, sugar, real fruit, and real spices. Plus you can feel good as you woof down your cone as a portion of the proceeds from every sale goes to a local charity. Golden Cow Creamery always has the same 6 flavors on the ready and 3 to 4 small batch creations ready to blow your mind. You can also choose from at least one non-dairy, vegan option for those with food restrictions so bring your lactose-intolerant friend along
---
This NoDa store offers customizable popsicles made daily from gelato, sorbet and yogurt that are made daily. This spot isn't just trendy, it's guilt free. The lactose-free, vegan-friendly popSorbettos are all less than 80 calories. The popGelatos are a good source of calcium and protein and are always less than 200 calories, and the yogurtPops, at 100 calories, are low fat and cholesterol-free. All of these treats are gluten free, Kosher certified and contain no artificial coloring or preservatives. It's a gluten-free, lactose-intolerant, vegan heaven but believe us, you don't have to have a food restriction to enjoy these frozen treats.
One glimpse of the over 100 flavors is indication that this is not your average sno-cone store. Pelican's started in New Orleans and has become popular for its huge servings of shaved ice with just about any flavor combination you can come up with. Try the Birthday Cake, Butterscotch, Root Beer, Sweet Tart or Dill Pickle. Sugar-free options are available, as well as kosher options. Four locations in Charlotte including North Tryon Street, Statesville Road, South Boulevard and North Davidson Street, and locations in Cornelius, Concord, Gastonia, Harrisburg, Mooresville, Monroe and Waxhaw. (Each store is independently owned).
---
The macaroon ice cream sandwiches are as artful as they are delicious. The menu also includes some wacky milkshake combinations, including some topped with Lucky Charms, Fruity Pebbles, Cracker Jacks and an assortment of sugary snacks.
---
Outside the Heart of Charlotte:
Cornelius
Carolina Cones opened in Cornelius in 1983 and has been serving scoops ever since. Little train lovers will love the train track (complete with train) zooming overhead, and kids of all ages get excited about the vending machines with trinkets in the back of the store. There is a playground for the little ones and a garden center next door if you want to shop for flowers while you enjoy your cone.
Matthews
Bruster's is the place to go when the members of your crew are all craving a different kind of cool. This cute shop in downtown Matthews has it all – classic sundaes, waffle cones, shakes, yogurt, sherbet, sorbets and more. They are out to please every member of the family with free baby cones to children under 40" and free 'doggie sundaes' to the four legged members of the family.
---
Gastonia
Tony's is a Gaston County landmark. It makes its product in house (talk about homemade) one half-gallon at a time and selsl it to other local shops and stores throughout the state. Located in downtown Gastonia, Tony's offers affordable lunch options along with its 28 flavors of ice cream/milkshakes, banana splits and sundaes.
---
Mint Hill
This spot becomes very popular when warm evenings start to roll around. People patiently wait in line for a scoop of the homemade creamy ice cream and freshly made waffle cones. Whatever flavor your choose you are headed for sweet-tooth satisfaction.
Courtney McLaughlin is a freelance writer in Charlotte, NC who enjoys testing all cool treats with her 13-year-old daughter.