10 Holiday Break Camps for Kids in Charlotte
Kids can build video games, get active, or do a little bit of everything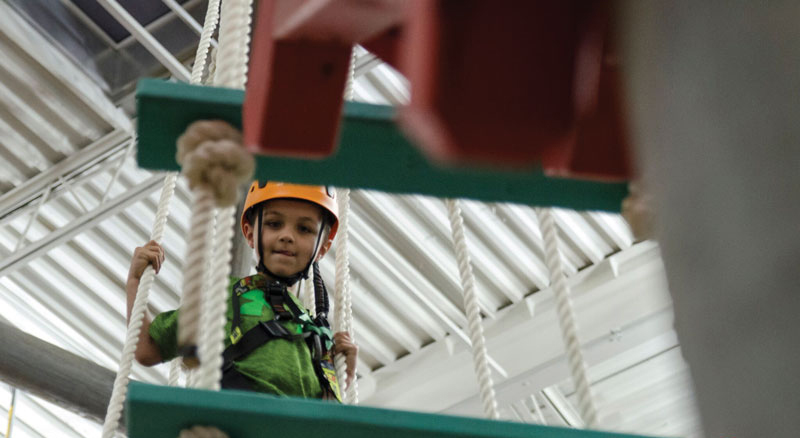 Looking for ways to keep your kids entertained over the winter break? The Charlotte area has plenty of opportunities for kids of all ages to burn off energy, have fun, and even learn a few things during their holiday break.
(Jan. 2, 3)
Each mini-camp is designed around children's literature, featuring drama, art, and music activities throughout the day. Teaching artists work with students according to grade level and lead activities created especially for each group.
Details: $70/day. Save $15 by registering for 3 or more camps. Ages K-5th grade. 9 a.m.-4 p.m. Ring in the New Year – 1/2, Superheroes Unite! – 1/3. 7th St., Charlotte.
---
(Dec. 23, 26, 27, 30, Jan. 2, 3)
Kids can spend their break building video games, while learning coding, math, logic, and problem-solving skills.
Details: Ages 7-14. 8:30 a.m-12 p.m. Ballantyne Village Way, Charlotte, and Christenbury Parkway, Concord.
---
(Jan. 1-3)
Emerging soccer players can spend three days over their winter break improving their futbol skills, while being inspired to reach their full potential.
Details: $150. Ages 7-12, 9 a.m.-12 p.m. Ages 13-16, 1-4 p.m. Wilkinson Blvd., Charlotte.
---
(Dec. 23, 26, 27, 30, Jan. 2, 3)
Young chefs are invited to gain kitchen confidence and learn how to make a variety of items. Flour Power offers one- and two-day camps that are sure to delight your kids' senses and stretch their imaginations.
Details: Ages 5-8 & 9-12. $84/day or $165/two-day. Quail Corners Shopping Center, Park Rd., Charlotte.
---
(Dec. 23, 24, 26, 27, 30, 31, Jan. 2)
Each day of camp will include a field trip or special activity, arts and crafts, sports, swimming, a lot of friends and fun. Camp themes vary each day and include magician, Lego, bingo, mad science and more. Extended hours are available each morning and afternoon for an additional cost.
Details: 9 a.m.-4 p.m. Member – $80/day, Non-member – $90/day. Providence Rd., Charlotte. 704-366-5007.
---
(Dec. 26, 27, 30, 31)
School's Out Challenge Camps give kids the chance to get out their energy during guided adventures, such as ninja, parkour, and climbing challenges.
Details: Ages 5-12. $45/half-day, $75/full-day.International Drive, Charlotte.
---
(Dec. 23-Jan. 3)
Your child is invited to take an adventure in art. Kids will work with a variety of mediums and let their imaginations soar as they learn techniques and get messy along the way.
Details: Ages 3-10. Morning camp: 9:30 a.m.-12:30 p.m.; member- $38/day, non-member – $35/day, sibling $5 off. Afternoon camp: 1-3:30 p.m.; member- $35/day, non-member – $30/day, sibling $5 off. Park Rd, Charlotte.
---
(Dec. 30, Jan. 2, 3)
Let your kids burn off some energy in a safe and fun gymnastics environment. Perfect Balance offers three camp days with themes that include holiday carnival, Frozen, and gym ninja.
Details: Ages 5-12. $85/full-day, pre-registered; $45/half-day, pre-registered. Monroe Rd., Charlotte.
---
(Dec. 23, 24, 26, 27, 30-Jan. 3)
Campers can choose from a variety of activities, including games, attractions, and sports in a safe facility. They are sure to come home happy and tired!
Details: $55/day (plus annual registration fee). Ages 6-13. 8:30 a.m.-4:30 p.m. Sports Connection Ballantyne and Northlake.
---
(Dec. 23-Jan. 3)
Children are invited to have a fun, festive experiencing during winter break. Choose from a variety of camp activities, including dance, art, games, field trips, cooking, and more.
Details: Hours and costs vary by location. Ages 4 to 14, depending on location.
Meagan Church a freelance writer. She lives in Charlotte with her high school sweetheart, three children and a plethora of pets. Connect with her on Instagram, Facebook and Twitter @mchurchwriter, or visit her website www.MeaganChurch.com.