10 Birthday Party Gifts Under $10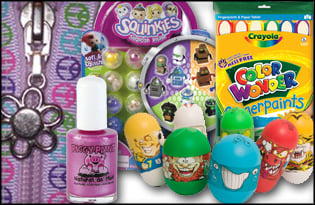 Does it seem like your child always has a friend's birthday party to attend, and you're scrambling to get a gift wrapped and ready to go? Here are some ideas for fun, gifts that won't break the bank. And you might want to consider buying a few to keep handy on that "gift" shelf in the back closet to pull out when a last-minute invitation arrives!
"What's the Time, Missie Mouse?"
Ages 1-3
A flapbook to flip through with your little ones as they follow a mouse family through a day. Written by Maisie Monroe and Lorette Broekstra, it has clock hands on the cover to let preschoolers play with time. $9.95. www.barnesandnoble.com.
Snip It!
Ages 3+
A book of fun activities that help kids develop their scissor skills. Create masterpieces in minutes with cutouts of assorted shapes and sizes. $7. www.mead.com.
Squinkies Bubble Pack
Ages 3+
Includes 16 miniature doll collectibles. These bubble-bound, squishy figures come in more than 180 varieties. $9.99. www.squinkies.com.
FriendZip Bracelets
Ages 3+
A gift to zip around the wrist and link one friend to another. Choose from a spread of patterns and zipper charms to brighten your bracelet, which comes with an inspirational quote. $5.95. www.friendzipbracelet.com.
Calico Critters Friends
Ages 3+
Find these fuzzy characters in mini carry cases or twin sets. Each critter is a member of the Cloverleaf Corners Community and has accessories to match his or her specific family function. $6.99-$7.99. www.toysrus.com.
Color Wonder Fingerpaints and Paper
Ages 3+
No paint, no mess. Press your fingers in patterns across the paper and see colors and images appear. $6.99. www.crayola.com.
Bakugan Starter Pack
Ages 4+
Get your mind whirling with the strategies of this card game based on the popular television series. Three Bakugan Brawlers are included to take warrior action based on how the cards fall. $9.98. www.bakuganstarterpack.net.
Mighty Beanz
Ages 5+
Thumb-sized collector's pieces with an endless range of characteristics and background features from Music Beanz to Sports Beanz. Play, trade and collect! $3-$6. www.mightybeanz.com.
Piggy Paint
Ages 5+
"Natural as mud" nail polish with an eco-friendly flourish. Perfect for slumber parties or mother-daughter bonding with an assortment of finishes from Clouds of Candy to Solar Power. $7.99-$8.99. www.piggypaint.com.
Zibits
Ages 8+
Battery-operated miniature robots with a variety of characteristics and back stories. Collect and rev them up with the remote to control their direction and 360-degree spin. $9.99. www.senario.com.